History - Literary Bath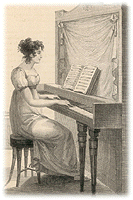 As well as the many dukes, duchesses, earls and lords who enjoyed Bath, the Georgian city was home to many of the artistic people of their time. Horace Walpole, Dr Johnson, James Boswell and Thomas Gainsborough frequented Bath 's card tables, concerts and balls. Bath's MP was Sir William Pitt. Jane Austen lived and wrote in Bath at the beginning of the 19th century and Bath is the place where Charles Dickens wrote The Pickwick Papers.
Moyra Caldecott's novel The Waters of Sul is set in Roman Bath in 72 AD. Richard Brinsley Sheridan's play 'The Rivals' takes place in the city, as does Roald Dahl's chilling short-story, 'The Landlady'.
he Jane Austen Centre, Bath website
Click here to read an account of 'Pickwick in Bath' taken from the Society's Newsletter archive and written by Stephen Conlin
Click here to read the shocking story of Richard Brinsley Sheriden - 'Elopement scandal was retold in old Bath opera' Bath Chronicle October 14th, 2010
Click here to read what George Saintsbury, a famous Crescent resident, retired professor of English Literature and literary critic wrote about Bath and literature
Click here to read about the BBC filming on the Crescent of Northanger Abbey by Jane Austen
Click here to see our Bibliography on Bath and Crescent books